"Turning your ideas into a business plan ~ 2-day Social Business Startup workshop"
Organized by:Tokyo+Acumen x JSIE
Supported by: Women's Startup Lab
Endorsed by:ACCJ, Temple University Japan ICAS, Health and Global Policy Institute
Date: July 1 – 3, 2016
Venue: AP Tokyo Marunouchi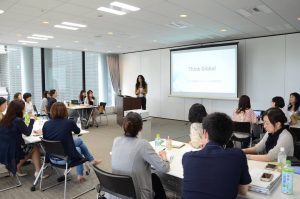 JSIE organized 2016 summer program that is designed to promote leadership toward innovative solutions against various social problems, issues or challenges. With respect to the theme of 2016 "encouraging women's initiative in solving social issues through startup business", fellows participated the 2-day program by bringing business ideas and identifying possible solutions, so that they will eventually developing these ideas into practical and sustainable services or products. JSIE and Tokyo+Acumen provided lectures on social impact, basic impact theories, presentation tips, and how to take initiative over challenges we face under globalization. Twenty-two WISE Fellows experienced intensive group discussions and learning process with distinguished mentors and advisors. At the Talk forum, special guests shared their life-stories how entreprenuershp really changed their lives and makes an impact to the society.
Please find photos from summer program here.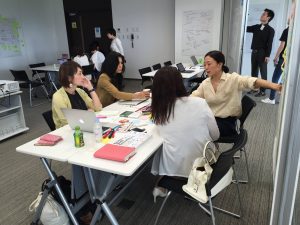 Time Table
Date/time

Contents

Friday July 1st     7pm

Kick off –Introduction of participants and organizers. Idea presentations and teaming-up.
Saturday July 2nd

Lecture, Workshop, Marketing research,

Talk Forum, Mentor/Coaching sessions

Sunday July 3rd 
Lecture, Group work, and preparation for the final presentation
Sunday July 3rd  4pm
Final presentation, Q&A, Judge feedback, and Award/Certificate giving
Sunday July 3rd   6pm~7pm
Networking & Reception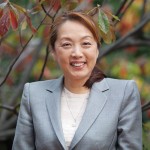 Sachiko Kuno is a co-founder of S&R Foundation in Washington, D.C. for the purposes of supporting talented individuals with high aspirations and great potential in science, art and social entrepreneurship. Prior to founding S&R Foundation, Dr. Kuno and her partner Dr. Ryuji Ueno led biotech ventures culminated in successful launch of Rescula® eye drops, the first bioactive lipid ever used to treat glaucoma, in Japan and  AMITIZA® (lubiprostone) for the treatment of chronic idiopathic constipation in adults. In 2015, Dr. Kuno was awarded the Citizens of Georgetown William A. Cochran, and recognized in Forbes magazine in both the U.S. and Japan as one of "America's Richest Self-made Women." She obtained her Ph.D. in biochemical engineering from Kyoto University.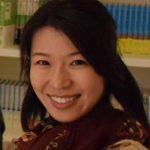 Suzuka Kobayakawa is affiliated to project development of KIBOU Impact Investment Team. Suzuka Kobayakawa has joined KIBOW foundation after having worked as Project Manager at a social start-up company in Nigeria, as Reporting Officer for UNDP in Nepal, and as a Team Leader at Recruit in Japan. She is also an Acumen Global Fellow. She holds an MA in Sustainable Development from the SIT Graduate Institute.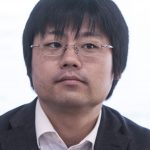 Makoto Goda is President & CEO of Nippon BIodiesel Fuel co. Ltd. Born and grew up in Nagasaki, Japan. Soon after entering Kyoto University (Law), Goda left the university and pursue own interest of energy-generating ventures, and founded Nippon BIodiesel Fuel in 2000, chiefly operating businesses in Asia and Africa. In 2012, Goda established a subsidiary of Nippon BIodiesel Fuel in Mozambique, and has been engaging projects of locally produced renewalble energy, food production, and ICT financial services. http://www.nbf-web.com/jatropha.html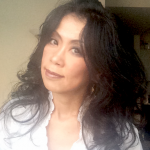 Fumiko Sasaki (Council member of JSIE)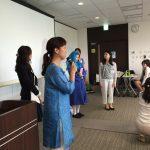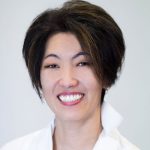 Ari Horie is Founder & CEO of Women's Startup Lab (WSLab), a founder development accelerator based in the heart of Silicon Valley. Ari is a prominent Silicon Valley entrepreneur and has been named one of Silicon Valley Business Journal's "Women of Influence in Silicon Valley" in 2015, one of CNN's 10 Visionary Women of 2014, and "40 over 40" Women to Watch in 2015.  Ari Horie is an active keynote speaker at leading tech conferences, such as NES Japan, SXSW Las Vegas 2014, and SXSWedu in Austin in 2016. WSLab and Ari have been featured in The Huffington Post, Wall Street Journal, Forbes, Silicon Valley Business Journal, Fast Company, Marie Claire "20 women Changing the Ratio", and  Success Magazine.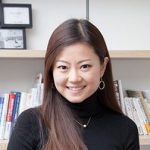 Chika Tsunoda is the founder and CEO of "Anytimes," which provides commercial matching services for people who need help and who are willing to provide labor. Prior to founding "Anytimes" in 2013, she had worked at Nomura Securities and a major IT companies. Chika graduated from Keio University in 2008. https://anytimes.co.jp/.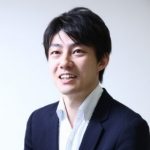 Yusuke Ohashi is the representative director of non-profit organization Asuiku, which supports children's education. Worked as a consultant at Recruit Management Solutions. Inspired by Mr. Tetsuo Kato, an influential figure in this realm, Ohashi started to involve in network-building projects for social business at Sendai-Miyagi NPO center. Founded Asuiku immediately after the Great Eastern Earthquake hit the area. Native of Fukushima, and a graduate of Tsukuba University. Currently holds trustee's position at Sendai-Miyagi NPO center, and member of Sendai city citizen-public activity promotion committee.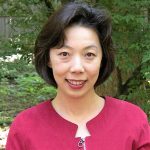 Hiromi Murakami (partner of JSIE)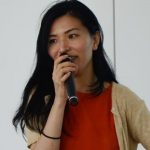 Hitomi Nada (Rep., Tokyo+Acumen)