On a weekend afternoon, JSIE organizes Afternoon Tea Dialogue in Washington, D.C. area with the aim for building US-Japanese next generations and parent network. The Dialogue features young leaders in various fronts, and provide opportunity to learn & get inspired from and to exchange ideas with the next generation leaders. You may find hints that will enable you to be active on a global scale in the future. This event is supported by honorable JSIE members in Washington, D.C. area.
At our first Afternoon Tea Dialogue, we welcomed mother and son pair of Dr. Naoko Takebe who is a working mother at NIH and Mr. Kenneth Ryu Takebe Naito who is a sought-after young violinist at the Julliard school. Naoko also plays the violin, and we enjoyed perspectives from both of them how she brought up Kenneth and how Kenneth chose his path to become a determined violinist. Special thanks to the host Mr. and Mrs. Breer who have been enthusiastic supporters of US-Japan relations and we greatly appreciated their presence at first Afternoon Tea Dialogue.
First Afternoon Tea Dialogue 
★Date/Time: Sunday April 8th, 2018, 2:00pm — 3:30pm
★Speakers: Dr. Naoko Takebe and Mr. Kenneth Ryu Takebe Naito
★Special thanks to our host Mr. and Mrs. Breer.
KENNETH RYU T. NAITO
Kenneth Ryu Takebe Naito is a 12th grader from Elkridge, Maryland. Kenneth studies with Professor Naoko Tanaka at the Juilliard School, Precollege Division. He started his violin studies at the age of 4 and his teachers included Ms. Elizabeth Faidley (Peabody Institute), Professor Keng-Yuen Tseng (Peabody Institute), Ms. Olga Khroulevitch, and Professor (Emeritus) Shirley Givens (Peabody Institute and Juilliard School). He has performed in many venues including Weill Recital Hall, Merkin Concert Hall, 92 Y, Franz Liszt House in Weimar, Terrace Theater, Kennedy Center, Strathmore Music Center, National Gallery of Art, Evermay Estate in Washington, DC, German Consulate in NY, and the National Institutes of Health in Bethesda, MD. Kenneth's solo recital debut was age 8 at the Peabody Conservatory and his concerto debut at age 11, performing the Bruch violin concerto with the Kostroma Symphony Orchestra, Russia, Pavel Gerstein, conductor. During the past 2 seasons, Kenneth performed with the Columbia Orchestra (MD), the National Philharmonic Orchestra (MD), the Londontowne Symphony Orchestra (MD) and the United States Army Orchestra (VA). Kenneth performed at a public masterclass with the Jerusalem Quartet sponsored by the Ryuji Ueno Foundation, at Evermay. Most recently, Kenneth performed the Vivaldi Concerto B minor for Four violins at the Heifetz Festival Celebrity Series with Professor Mark Kaplan (Indiana University) and Professor Brian Lewis (University of Texas). Kenneth was chosen to be a Student Artist to the 2017 Starling-DeLay Symposium on violin studies held at The Juilliard School. Kenneth also attended at the Heifetz International Music Institute's Summer Institute for the past 3 years and the Summit Music Festival last year. Kenneth interests outside of music include earning a Tae-Kwon-Do blackbelt, and biking, and running.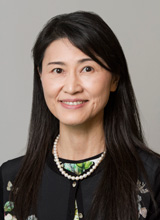 Dr. Naoko Takebe MD, Ph.D.    Associate Chief, Developmental Therapeutics Clinic; Head of the Early Clinical Trials Development Program, Translational Science Section
Dr. Takebe joined the Developmental Therapeutics Clinic as an Associate Chief, Translational Science Section, Head of the Early Clinical Trials Development Program in June 2017. Prior to her current position, she was a Senior Investigator at the Cancer Therapy Evaluation Program (CTEP) for nearly 10 years. At CTEP, she implemented early clinical trials under CRADA with pharmaceutical and bio-venture companies. Prior to joining NCI, she was a faculty member in the Department of Medicine and Department of Pathology at the University of Maryland School of Medicine, Blood and Stem Cell Transplant Program in the Division of Hematology/Oncology. As a physician scientist, she conducted clinical trials in the field of hematologic malignancies and stem cell transplantation. She also worked as a laboratory principal investigator (PI) investigating experimental therapeutics for multiple myeloma and using umbilical cord blood stem cell ex vivo expansion for allo-BMT. Dr. Takebe received her M.D. and Ph.D. degrees from Hirosaki University School of Medicine, Japan, and completed her medical Hematology/Oncology Fellowship at Memorial Sloan-Kettering Cancer Center in 1997, and a Postdoctoral Research Fellowship at the Memorial Sloan-Kettering Institute in 1999 focusing on gene therapy and molecular pharmacology and therapeutics. Currently, she is also a translational science PI for the NCI Exceptional Responder Initiative, and a NCI co-investigator for NCI-MATCH and Pediatric MATCH. She serves as an Associate Editor for "Current Problems in Cancer" from Elsevier. She also is a member of the NCI Provocative Question team and Cancer Moonshot Initiatives, Human Tumor Atlas. She serves as an oversea member for the Immunotherapy Guidance Working Group in Japan. She is board certified in Hematology and Medical Oncology.