"Global Career Series" provides online learning opportunity to middle and high school students who are interested in paving their way through their future in the global world. It is an interactive educational program where participants can learn about professional work and experience from the people who are globally active in various fields and study-abroad life from the students studying at overseas universities, and also ask the speakers questions directly. This gives participants not only the opportunity to think about their future life planning but also vital knowledge that may help to navigate future global career. Currently programs is held in Japanese language. You will need zoom or Teams environment. Below is the 1st Global Career Series kickoff event by Fumiko Sasaki, JSIE director.
Next Global Career Series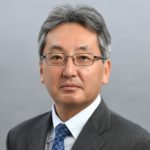 Hiroyuki Kotake | Senior Editorial Writer at Nikkei Newspaper
Born in Otaru City, Hokkaido, graduated from Komaba Junior and High School of the University of Tsukuba. Graduated from Waseda University, majored Political Science and Economics. Joined Nikkei Inc. in 1988. Specialized in the areas of macro economics, Ministry of Finance, the Bank of Japan, and the Industrial Department in the Economic Department. Studied at the University of Missouri, U.S.A. Spent time in Washington DC bureau as a correspondent (2004 to 2008) and the bureau chief (2014-2018), covering 2016 presidential elections and US-Japan relations. He has been a senior editorial writer and editorial board member. He writes mainly on domestic and international economic issues and international situations. He is the author of "The Lost Superpower America" (2019), and co-authored "Technical Hegemony: The Depths of U.S.-China Clash" (2020).
Global Student Peer Roundtable Discussion
"Global Student Peer Roundtable" provides online discussion opportunity among peer high school students from various parts of the world. JSIE directors will facilitate the discussion and help exchange various ideas among students from different background. Each session, JSIE will set a discussion theme and call applications. Applications are first-come-first-serve-basis. Students can propose future theme/issues of their interest. The Roundtable discussion will take approximately once in 2-3 months, and any high school students can participate online and engage in group discussions. We can accommodate English and/or Japanese speakers.  This Roundtable series provides participants not only the opportunity to share your own views, but also get inspired from how others view the world differently. JSIE thinks that such opportunity will impact your thinking that may help to navigate future global career. You will need zoom or Teams environment. Please state your name, school (location as well), grade, self-introduction, and areas you are interested, and send email to info@jsie.net. Please sign up for JSIE free membership, so that you will receive event info in JSIE newsletters.
#3 Roundtable Discussion  January 16, 2021 8:00-9:30am EST
Theme "What is an effective way to learn?"
At this roundtable discussion, we would like to exchange opinions on effective learning methods. While at classrooms or summer camps, you may have experienced classes that are excitedly interesting or boring to death. Why is that? There may be various reasons such as the teacher's personality, organization of the lesson, teaching materials, the structure of the textbook, the subject itself, scoring method, and so on. What kind of approaches are highly effective for you to learn? If you are passive, how can you actively participate or turn the classes into interesting one? We would like to share everyone's experience and think about such things together.
#1 Roundtable Discussion:  August 2, 2020
Theme: COVID-19 and New Normal
Facilitator: Fumiko Sasaki (JSIE Director)
What are the challenges we face today with COVID-19? What would be our New Normal? We have discussed differences in perspectives in the U.S. and in Japan, and why that happens.
#2 Roundtable Discussion: September 20, 2020
Theme: What is a Leader? ~ US presidential election and change of Japanese prime minister
Facilitator: Hiromi Murakami (JSIE Representative)
What are we expecting leaders? What are the skills and capabilities leaders should have? We have discussed perspective differences in the U.S., Canada, and Japan.