About Washington Women's Dialogue
There are numerous social challenges to overcome in order to achieve an inclusive society. To develop and expand Asian women's presence in global leadership roles in business, government, political, and social activities, JSIE organizes "Washington Women's Dialogue" (WWD), co-hosted by the Maureen and Mike Mansfield Foundation, featuring prominent role models in various sectors, who would kindly share their life experience. WWD offers opportunities to frankly discuss various issues on social and international challenges and learn how to overcome such challenges.
At the 17th WWD, we are going to welcome Ms. Sarah Colon and Ms. Saleema Vellani, who have been building careers with "Nomadic-like" entrepreneurial working style. "Nomadic" here means working freely on multiple different task/jobs/ventures as they desire. It may be common these days, however, making it successful is a different story. Sarah has managed to creatively thrive in various jobs, from charter boat hostess in the Caribbean, university lecturer, consultant to international NGOs, to Airbnb superhost, while she had unexpected life challenges, including spinal cord injury, tropical infections, and cancer. Saleema also has a unique, unconventional career path — she has provided consulting to the World Bank, Inter-American Development Bank, and Upwork, she has founded a handful of fast-growing ventures in four countries, and currently runs her two social enterprises in the leadership development arena, Innovazing and Mavasive Leadership Institute, and currently teaches entrepreneurship at Johns Hopkins University SAIS. Both are very talented entrepreneurs exploring different worlds, and we are very excited to hear their stories of transformation, trials, mistakes, and how they have been pioneering their own ways. They have shared with us their powerful life stories and paths to establish their own careers.
Date & Time:Tuesday, October 9th, 2018  18:30~20:00(Door opens 18:00 for networking)
Venue:Maureen and Mike Mansfield Foundation
1156 15th Street, NW Suite 1105 | Washington, D.C. 20005)
Speakers:  Ms. Sarah Colon, and Ms. Saleema Vellani
Capacity:25(※Registration will close when it reaches capacity.)
Language:English
Please register and make a payment below. (JSIE free-member login is required for registration.)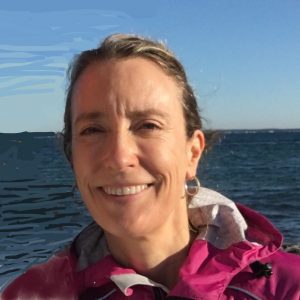 Sarah Colon, Key Collaborations Advisor and Senior Writer, the US Department of Energy (DOE)
Sarah is currently Key Collaborations Advisor and Senior Writer in the Fuel Cell Technologies Office (FCTO) of the Energy Efficiency and Renewable Energy division of the US Department of Energy (DOE). Sarah is passionate about creating bridges between cultures and individuals. Prior to her graduate work in international relations and Japanese, she spent more than a decade teaching and volunteering overseas, including eight years teaching English and American studies at a small women's college in Japan and two+ years with NGOs in Bangladesh, Russia, Mongolia, and Haiti. She has also worked for the UN World Food Programme, Google Japan, and the Japan Science and Technology Agency.Following a debilitating bike-car accident, Sarah turned to entrepreneurship, converting her basement into a three-room Airbnb hotel which has been recognized as a top place to stay in Bethesda. She credits her commitment to friendships, the arts, and volunteer service for the inner strength that has made her so resilient.
Sarah formally served as co-chair of the SAIS Women's Alumni Network (SWAN) DC Social committee and is a volunteer crisis counselor.Sarah earned her A.B. in biological sciences from Cornell University and studied Japanese at Middlebury College Summer Language Institute, the Johns Hopkins University School of Advanced International Studies (SAIS), and Sheffield University. She is presently studying acting at Studio Theater Conservatory and voice and violin at Levine School of Music.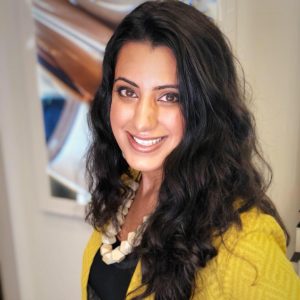 Saleema Vellani, Co-Founder and COO of Innovazing
Saleema Vellani is the Co-Founder and COO of Innovazing, which is an education and leadership development firm that strives to teach individuals innovative tools to become more impactful leaders. Innovazing uses emotional intelligence tools and techniques, based on neuroscience, in its highly customized programs for nonprofits, higher education institutions, Fortune 500 companies, and government agencies. Saleema is also the Co-Founder and CSO of Mavasive Leadership Institute. Aside from launching five fast-growing ventures across four countries, including Brazil's largest and top-rated Portuguese school and a website translation business, she has also provided consulting for over 12 years to a wide spectrum of organizations, including Upwork, the Inter-American Development Bank, and the World Bank.
Saleema teaches Entrepreneurship at Johns Hopkins University where she obtained her Master's degree in International Relations and International Economics. She also co-leads the World Bank Group's largest and most inclusive mentorship program for young professionals and has won numerous awards for her work in social innovation. Fluent in five languages, Saleema is most passionate about empowering underserved communities and emerging markets through technology, innovation, and entrepreneurship.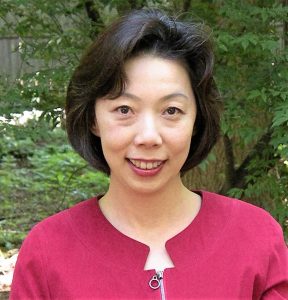 Hiromi Murakami, President of JSIE (Facilitator)

Hiromi Murakami is the Founder and President of JSIE. Prior to founding JSIE, she's involved in various policy projects in US/Japanese institutions, including Center for Strategic and International Studies (CSIS) Global Health Policy Center, the Health and Global Policy Institute (HGPI), and Economic Strategy Institute. Currently Murakami is also an adjunct fellow with the CSIS Global Health Policy Center. Prior to joining HGPI, she led Asia research as a vice president at the Economic Strategy Institute in Washington, D.C., and taught courses at the National Graduate Institute for Policy Studies (GRIPS) in Tokyo and the Johns Hopkins School of Advanced International Studies (SAIS) in Washington. She holds an M.B.A. from St. Mary's College and a Ph.D. in international relations from Johns Hopkins SAIS.

本イベントは、Mansfield Foundationとの共催です。